BOOKWORM NEWS:
Finally from RL Mathewson just went live !! – "Sometimes life does not go as we expected. It happened to Devin Bradford when he received the news that turned his life upside down seven years ago. Devin has decided to be there for his children putting his life on hold and putting his children first, even if that meant saying to himself that he couldn't have the only woman he ever wanted, and after years of postponing the next step, Charlie was finally done ready, mostly because her best friend had threatened to make her life hell if she didn't. Charlie knows that if she hadn't made some changes, Charlie knows she's going to do it and somehow moves into the man's in law who seemed to go out of his way to avoid her, just to wonder if she was chasing the wrong dream. "

Sawyer Bennett's Rafe has just gone live !! – "I lived my dream until a call changed everything … When I'm not on the ice with my new team, I help to take care of my father. And in the midst of my grief, I find comfort in the one person who I never expected … She stole my heart when I was very young. The beautiful, smart, idiosyncratic girl next door was my first … everything. She never forgave me for leaving because she believed , I would have chosen hockey for a future together. What she doesn't understand is that every decision I made was for her and I never gave up hope that someday we'll be together again … "

KA Linde's hate season has just gone live !! – "He is an eyesore to me. I am hired to clean up his badboy image, which would have been easy if my life hadn't broken up. First I catch my film star husband who is having an affair with his co-star. When I return to work, my job is at stake because it has gotten into trouble again. Instead of getting him back in line, I fall in love with his charm. And in his bed. And against the wall. And, and, and … Except that his charm shouldn't affect me. Not if I swore never to sleep with a customer. I had good intentions. I really did it. But we all know that the way to hell is paved with good intentions. "

Pam Godwin's Sea of ​​Ruin has just gone live !! – "Bennett Sharp is on the run. Wanted for piracy, she fears neither God nor death nor man. Except for Priest Farrell. The unfaithful Libertine with the stormy eyes chases her with terrible obsession. Nothing will stop him from coming for her. Not his unforgivable betrayal. Not if she is captured by ice-cold pirate hunter Lord Ashley Cutler. She has to escape Ashley's prison and priest's fraud. But can she go away from her twisted wishes? … Two beautiful captains stand on opposite sides of the law. If they collide in a fight for their protection, the lines between enemies and lovers become blurred… "

Can & # 39; t Fight the Moonlight by Barbara Freethy has just gone live !! – "She wants everything – the dream job of running her own inn and a man who wants to settle down. Despite an earlier romantic setback, she still believes in happy to the end and in her perfect soul mate. You just have to find him. While the dark-haired man with the shocking blue eyes makes her heart beat faster, he is the last man who should make her breathless. He is their complete opposite and they don't want the same things … But when a lunar eclipse (their city) throws in the dark, they fight to fight the moonlight and a love that could change their lives – if they are ready are taking the risk … "

The ingredients of you and me from Nina Bocci have just gone online !! – "After selling her famous New York bakery, she visits Hope Lake, Pennsylvania to find out what to do next. And she soon wonders why she loved city life in the first place. Between the Golden Girls – the older women who keep court – and her angry and charming former flame, she finds a community that wants to help her get her mojo back … But although Hope Lake gives her the fresh start she was looking for , Parker discovers that it's not that easy to start over with Nick … "

Annika Martin's billionaire fake fiance just went online !! – "I am not a charming prince, and the last thing I need is Cinderella. My instructions were simple: Search the city for a fake fiancé who is not my type at all. Have her in my jet Monday morning, suitably dressed for one I need a woman who is credible enough to convince a certain customer that I have changed my Playboy methods. Should be easy. Right? Apparently not because my people hire Tabitha. My hairdresser. What did they think "Tabitha is sun-shining. She has a hamster. She loves Hello Kitty and gets under my skin like no other. As if that weren't bad enough, as soon as we get on deck, she thinks that certain people are planning something shady on the yacht – based on her knowledge of the soap opera. She doesn't listen when I tell her she's ridiculous al kisses heat up. And suddenly her wild theories don't sound so strange anymore … "

I'm counting on Cole by Cynthia Eden and just went live !! – "She was the one who escaped. The one who ripped his heart out and took it with her when she left. There are some people you can never forget. She needs help. The kind that only someone like Cole can give her. The only man she ever loved. She is the only one he wants. The one who owns his heart. Who wants to hurt her? You have to go through it. Case closed. – Cole takes the case. Become her bodyguard. Get too close and awaken memories that should be dead and buried in a six-foot hole. The incandescent attraction burns brighter and brighter between them, but Evie won't fall in love with him again. Will not. Except … it is. He is. They fall. Cole wants Evie more than anything and this time he won't go away. This time there is nothing to tell them apart. He'll fight like hell for the woman he always loved. He finally has a second chance with Evie. He won't screw this up. And he won't let her go again … he'll prove to Evie that she can always rely on him to protect her. "

To My Arrogant Boss by JS Cooper has just gone live !! – "For Mr. Tate Howard, you're probably the most annoying, annoying, and grumpy man I've ever met in my life. I know you think you're God's gift to women, but I have a secret that I do can tell you: it is not you, you are God's gift to you, overcome your cool surfer self and grow up, I thought it was time for someone to address your big head and tell you right in the face that you don't do everything Just because you have an Ivy League education doesn't mean you're the smartest man in the world. In fact, I'm not even sure you would have come in if you hadn't had rich parents. Yes, I did was there. Every woman doesn't want to sleep with you and I'm sure you're not even good in bed. And I'm someone who would know. From, Your Secret Not Admirer The second book in the line of inappropriate bachelors . "

A duke by another name from Grace Burrowes has just gone live !! – "Nathaniel, Duke of Rothhaven, lives in seclusion and only leaves his property to gallop his demon-black horse in the moonlight over the moors. Angry mums call his name to scare small children, even though Nathaniel is really a decent man – maybe too decent for his own good. This is exactly why he has to reject the beguiling woman who requests his help. Lady Althea Wentworth has little patience with dukes, withdrawn or otherwise, but she needs Rothhaven's support to gain access to the Polite Society. She asked him in a friendly way, she called him politely, all without success – until her price pigs accidentally loot the ducal orchard. He longs for privacy. She vowed never to endure a ball as a wallflower again. But as the two grow closer, it quickly becomes clear that they are both pretending to be something they are not. "

Artful Lies by Jodi Ellen Malpas goes live this week !! – "An irresistible connection, a desire that doesn't let go … When the up-and-coming antique dealer Eleanor Cole gets the chance of a lifetime to work for Hunt Corporation, the renowned antique dealer, she doesn't think twice about it. Just to find out that she'll work closely with the infamous and insanely irresistible Becker Hunt. He's a man famous for getting what he wants and Becker wants Eleanor. But as Becker pulls her deeper into his world, she discovers that he has more to offer than you think. And falling in love with Becker turns from stupid to dangerous … "
NEW BOOKLIST: My Outstanding Favorite Readings – I Made A New List! There were no rules on how I made this list. I have not tried to name a certain number of books. Sometimes I mentioned a particular book by title, sometimes I mentioned the author when I generally love all of their books, sometimes I mentioned entire series when it was more about the whole experience than a single book … and this is not just one Book Also the general list of favorites, rather a list of readings that I have particularly noticed over the years … Click here to see the books!
RARE SALE & TOP FAVORITES: Dream Man Box Set Books 1-4 by Kristen Ashley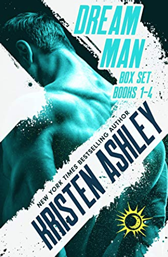 OH MY GOD! It is an incredible deal! 4 TOP FAVORITE BOOKS for about half the price that they would offer individually – for almost 1500 pages with fantastic alpha-romantic content! – This set contains: (1) Mystery Man ("Gwendolyn Kidd met the man of her dreams. He's hot, he's sexy, and what started as a night of passion with no name has turned into a year and a half of fun. Hawk Delgado has demons that last but when Gwen is threatened, Hawk's protective nature is fully expressed… "), (2) Wild man ("Tessa O & # 39; Hara never expected the man of her dreams to come to her bakery. Within 30 seconds, he asks her for a beer. But when she discovers he's an undercover DEA agent – and he examines her possible role in her ex-tess explains that their relationship has ended. Brock disagrees. He has committed himself to his mission, but he fell in love with the beautiful woman who is as cute as her cupcakes – and he will do everything possible to win them back. "), (3) Law Man ("The cute, shy Mara Hanover is in love with her neighbor. For four years she has been secretly watching her dream man from afar. The handsome policeman Mitch Lawson is far out of her league. She is a girl on the wrong side of the tracks (but) when Mara is pulled back into the life she has tried so hard to leave behind, it is Mitch who comes to her rescue. "), (4) Motorcycle man ("Tyra Masters has had enough drama for a lifetime. Now she is back on the right track and is looking forward to her new quiet life. Until she meets the man of her dreams. The tattooed, muscular biker forces her with tequila – and that Best Sex She Knows Kane "Tack" Allen is the kind of man she always wanted. Unfortunately, he's also her new boss … ") – If you haven't read this, you should check out this Dream Man sales package And once you've read them, pre-order the upcoming spin-off: Dream Maker!
WEEKLY NEW PUBLICATIONS CHAPTER
Finally by RL Mathewson (romantic comedy, Neighbor From Hell series)
Rafe by Sawyer Bennett (hockey romance, independent novella in the Arizona Vengeance series)
The ingredients of you and me by Nina Bocci (small town romance, independent in the series Hopeless Romantics)
The Hating Season by KA Linde (enemies of romantic love, independent in the Seasons series)
Sea of ​​Ruin by Pam Godwin (pirate romance)
Can & # 39; t Fight the Moonlight by Barbara Freethy (small town romance, independent in the Whisper Lake series)
Annika Martin's billionaire's fiancee (opposites attract romance, independent)
Count on Cole by Cynthia Eden (Romance of the Second Chance, Independent in the Wilde Ways Series)
To My Arrogant Boss by JS Cooper (romantic comedy, independent in the series The Inropriate Bachelors)
A Duke of a Different Name by Grace Burrowes (historical romance, standalone in the Rogues to Riches series)
Deep in the Alaskan Woods by Karen Harper (Mystery, Standalone in the Alaskan Wild series)
Danielle Steele's wedding dress (family drama of the generation, independent)
Artful lies by Jodi Ellen Malpas (billionaire romance, The Hunt Legacy Duology)
LATEST BOOK SALES
UPCOMING BOOK RELEASES
BOOKWORM STORE
WHAT BOOKS ARE YOU LOOKING FOR?
__________________________________
Let me know if there are any other books you love right now !!
Let us stay connected
To have these lists sent to you every week, subscribe to them by email.
FOLLOW THE BLOG
Facebook | Twitter | Instagram | Pinterest | BlogLovin '| Google+ | Goodreads